About
FAQs
BuildingGenius welcomes all housing stakeholders—design and building professionals, manufacturers and suppliers, public agencies and non-profits, renters and owners. Anyone who registers for a free account can post a question to the discussion forum if they can't otherwise find an answer to their question or just want the peace of mind that comes from a two-way conversation. However, the current priority for features and curated content is to address the needs of architects and design professionals.
Why is BuildingGenius needed?
Housing design teams spend countless hours on the typical project navigating complex and confusing codes, designing details, researching products and best practices, and coordinating with consultants and tech reps. With thin margins and ongoing "fires to fight", optimal decisions are often sacrificed to just get the job done. But as a whole, the housing industry already knows how to create healthy, efficient, durable and climate-friendly homes! The problem is simply that existing information and expertise are not packaged and distributed in an efficient and effective way. 
How do you gather information and expertise?
There are three distinct "levels" of content in the community: factual, curated and crowdsourced. Factual content is what it is—building codes, datasets, product standards or certifications, etc. This content is collected and organized by the platform administrators, or Stewards. Curated content is developed by vetted subject matter experts, or Ambassadors, within the community to create holistic best practices guidance. Crowdsourced content such as forum questions and comments, event listings, and nominations for new resources can be contributed by any community members.
Who's the inspiration behind BuildingGenius?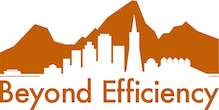 As consultants on residential projects since 2009, the Beyond Efficiency team intimately understands the housing industry and challenges that we and other professionals face every day. BuildingGenius is just an outgrowth of the in-house tools we've developed over the years to help make our own consulting work more efficient and effective.
Why is Beyond Efficiency taking this on?
We're highly motivated to solve the nation's housing crisis and planet's climate crisis through our technical work but realize that a traditional building consulting model isn't enough. We want to empower everyone with the benefits of "boutique consulting" that otherwise is out of reach for many and tends to be stuck in silos in the industry. Our goal is to make sustainable housing easy, fun and affordable for architects, engineers, consultants, builders, DIYers and other housing industry stakeholders.
Why focus on better housing?
Ample housing is critical to create vibrant communities and nurture human potential. The US residential construction market was $671B in 2021 and created 1.4M housing units, yet we actually need over 2M units/year over the next ten years to keep up with demand and make up for a 5.5M unit shortage. And since buildings generate almost 40% of the world's carbon emissions, the housing we create has to be climate-friendly. 
When will BuildingGenius launch?
BuildingGenius is currently in private beta with a goal of fully launching to the public in the fall of 2023. If you're interested in being a beta tester or otherwise collaborating, please respond to the survey.
What can I do in the meantime?
First, respond to the interest survey if you haven't already done so! You'll receive periodic updates on development milestones and the release of new public-facing features and may be invited to participate as a beta user. While many features are currently only available to beta users such as commenting, discussion forums, direct messaging and more, new publicly accessible content is frequently added and we encourage you to check back often.